My calender has been filling up with activities and goings-on of San Francisco this summer, so I'll probably post events each month on here for yalls enjoyment; maybe even an events calendar widget. I won't be attending everything, but you might as well go and tell me all about it. Of course there are thousands of other events, being the beginning of summer and all, but here's the highlights:
May 1st (Sunday)
I will not be attending any of these, for I will be at the ballet in the afternoon!
Glen Park Street Fair

Last year; photo courtesy of www.glenparkfestival.com
This festival has been around since 1997 but I had never heard about it until I saw it on funcheap.com in the free section. It looks to me mine a regular ol' street festival with the normal food, community leaders in booths, flea market jewelry, and the like. Apparently they have life music, "great food" and raffle prizes... tell me how it goes? [
clicks here dude
]
Boat Parade
Opening Day Boat Parade
It's a friggen parade of boats! Get yourself down to Fishermen's Warf (or anywhere on the Embarcadero), get yourself some lunch/cocktails, and watch the boats float by.
How Weird street faire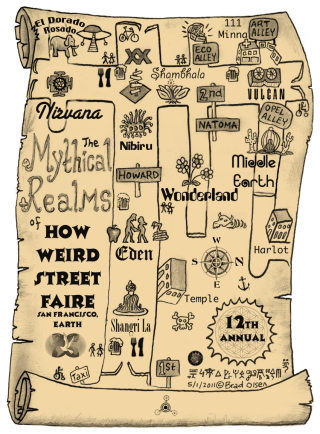 Never been, but a little intrigued. The about page is much to long for me to attempt reading at this juncture, but
yall are welcome to tell me the cliff notes
. I'm guessing it's full of the normal SoMA freaks that make their way outa the houses once in a blue moon, in which case, I'm there! I'll probably stop by for some eats and tunes after the afternoon ballet. (look at me, all cultured n shit, goin to a ballet!) Apparently if you donate $10 you get a MAGICAL STICKER! As if getting a fucking sticker wasn't enough, it's magical? I sure hope it gives me the superpower I've always wanted: understand and speak/write in any and every language in the universe.
May 5th (Thursday)
it's a thursday, and I'm a responsible student (teehee) so I probably won't be celebrating too hard, which means I haven't really researched all the fantastic mexican events in the city. I do, however, know that
FREE
cab rides will be available...
Free cab rides
Yeah, that's right kids! It happened on New Years, it happened in St. Patty's day, and it'll happen again for Cinco de Mayo. Berg Injury Lawyers apparently want you to get home injury-free, so they're paying a shit-ton to cater to the bay area's need to drink and get home (without driving, duh). Deets:
San Francisco:
(Within city limits only) call Luxor (415) 282-4141
Alameda, Oakland, Berkeley:
(Within city limits, and
home
to SF) call Veterans Cab (800) 281-4488
Rules
Rides available from 3pm-3am

Cabs must be requested by phone

When calling the cab, tell them Berg Injury Lawyers are picking up the tab

Rides are not guaranteed for everyone (worth a shot though)

Must be picked up at a bar/restaurant (not somebody's house) and taken straight to your house (or where you're going to sleep that night)

Maximum fare $35, you pay the difference over that
There ya have it. Be safe. [
clicks here for more info
]
May 7th (Saturday)
Not only is it my sister's birthday, but plenty of fun shits goin down in the mission. I'll be at Great America, so have fun without me!
Cinco de mayo @ Dolores park
10am-6pm at Dolores Park
if you don't know where that is, you don't belong there.
Plenty of booze, food, and latinos running around the mission. What else is new? This is sure to be a grand ol' time. Stop by,
see what's up
, eat some great food for me.
icee hot loft party
Kitsch Gallery
is closing! They're planning 3 fairly large events, so at least they'll go out with a bang! Icee Hot is their first of the series, featuring fabulous DJs with beards and aliases. Go drink booze and jam till "late" for $5. Bargain!
[
I'll post about the other events when I know more
]
May 8th (Sunday)
Sunday streets (mission)
Sunday Streets
is basically just a day where a major street is closed to traffic to promote walking, biking, and skating.
But what
exactly
is it? From the
website
:
Sunday Streets is a series of events put on by the City of San Francisco to encourage health, community and fun, inspired by similar events in cities throughout the world. A Sunday Streets event creates a large, temporary, public space by closing off stretches of a neighborhood's streets to automobile traffic, and opening them to pedestrians, bicyclists, and activities for several hours on a predetermined Sunday.
This Sunday Streets will be held in (where else?) The Mission. I mean, really. Do I ever talk about anyplace else? Aside from Austin, of course. Valencia will be closed off (except to cross traffic on the
even
numbered streets) from Duboce to 24th, and 24th st will be closed from Valencia to Hampshire (except to cross traffic on major streets). Streets will be closed from 11am-4pm.
Will I be there?
Yeah; the fuck kinda question is that? You better be too.
May 15th (Sunday)
Gee, what on earth could be happening on this day?
Bay To breakers
This would not be a complete San Francisco summer list without Bay to Breakers, Pride, Outside Lands, and free shit. This year is the 100th anniversary of
Bay to Breakers
and in honor, San Francisco has the finest celebratory change planned:
no booze
and no floats. I've also heard no unregistered runners allowed, but I'm not entirely sure this is correct. On the subject of booze-less B2B, yeah go ahead and bring your cleverly concealed liquor in eco-friendly bottles ironically labeled "water" and the like, but be warned that this years
volunteers are on the prowl for violators of the new order
. Anyone caught with alcohol will be
a)
arrested
b)
fined
c)
cited or
d)
all of the above. On that note, here's a
map of liquor stores
along the B2B route, though some might be closed in honor of the new rules. Oh and if this is all jibberjabber to you because you've got amnesia from drunken accidents at the last B2B and don't remember wtf it is,
click here
. My friends and I will go dressed to the friggen 10s. That's right, 10s, not 9s. Cause thats how we roll.
This is also the anniversary of my rabbit's adoption day, and because I rescued her and nobody knows her birthday day, we'll be celebrating her 2nd birthday on this date. Happy birthday, Kitty!
May 21st (Saturday)
movie night @ duboce park
The Rock is among the 4 movies I can tolerate spending any amount of time with Nick Cage (the other 3 being Grindhouse, G-Force, and Fast Times at Ridgemont High). Have you ever been to Duboce Park? This will probably be my first trip over there, but well worth it to hear Sean Connery say "Your best? Losers always whine about their best. Winners go home and fuck the prom queen." Yeah, we we we so excited.
Event is free! Movie starts when it's dark, probably around 8ish. This won't be as crowded as the Dolores Park movie night.
May 27th (Friday)
Pride night @ Great america theme park
(this will be the highlight of my month)
Robyn (that adorable chick from the '90s that sang
Show Me Love
) is headlining because apparently she's popular again? At least she is with all the gays in SF. Whatever. DEV IS GOING TO BE THERE! With the Cataracts, of course! Plus all the rides will be open (except the children coasters and water park, but who does those at night anyway?) and it'll be gay central! Night starts at 6pm and ends at 2am. I'm going with a special lady and a few friends.
Buy tickets here
or win them at various Castro parties. I believe they raffle off a ticket at Ladies Night @ Trigger every tuesday, but I could be making that up. Did I mention the event is all ages? See ya there.
How cute is Dev? She's my guilty pleasure. She could bend any straight girl.
Apparently this song came out like 3 years ago, but I just discovered it and have had it on repeat for the past week or so. Robyn is adorable.
May 28th (Saturday)
if you're not too hungover from last night...
Carnaval
Carnaval is a pretty low-key event for the Mission; unless you want it to be chaos, in which case there's plenty of booze, culture, food, and people to make it that way. Last year I brought my bunny to the parade on a harness and I was the belle of the ball. This year I'll try to make it, but no promises. The pupusas are glorious and well worth the trip. The parade starts at 10am on Bryant & 24th street, and heads down 24th to mission to 17th st. The festival goes all day along Harrison.
Other May activities
May 3rd (Tuesday)
my friend Priscilla will be singing with her band Palavra at Elbo Room. The band is Brazilian and phenomenal. Show starts at 9pm at Elbo Room (Valencia between 17th & 18th).
Facebook it
.
May 14th (Saturday)
another brazilian friend (have I mentioned how many Brazilians I'm friends with?) Neto is promoting a dance event at Mist (11th st between Folsom and Harrison across the street from Slims) featuring brazilian DJs spinning brazilian beats. If you know the brazilian scene in the SF Bay Area like I do, you know it's bound to be an insane night. $10 at the door, 21+.
Facebook it
.
And of course the regular monthy/weekly events that are always present:
Whisky Wednesdays
@ Benders (19th st & S. Van Ness) every wednesday- I
might actually make it to one of these... fingers crossed... haven't been in a couple months...

Free Zoo Day
for SF residents @ SF Zoo every 1st wednesday of the month (may 4th) - bring proof of residency
Free Academy of Science Days
every 3rd wednesday of the month (may 18th); and for SF residents - dependent on your zipcode, apparently... my 94134 days are may 27, 28 & 29th.
Find yours here
.
Giants
29 games this month. I might be at the one on the 6th, so who wants to come too?
Anything else I should know about? Let us know in the comments section, por favor!